Skyline High School
Class Of 1967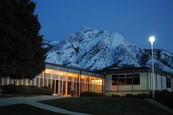 Skyline High School to Undergo Renovation
Hey, Class of '67! Remember when we attended a practically brand new Skyline High School, but the roof leaked? Remember dodging those trash cans in the halls that were catching the drip, drip, drip when it rained? Well, guess what - It still leaks, and has done so for the past 55 years! The flat-roof was never designed for the amount of rain and snow in Millcreek (wait - it was in Salt Lake City back in the day, right?). But finally, something is going to be done about it. A $238 million bond was recently approved for Granite School District to renovate or rebuild several schools, including our beloved alma mater! A vigorous debate was waged, but thanks to "well-funded factions on both sides of the issue" (Salt Lake Tribune), voters approved the bond 56% to 44%.
Twin brothers Kanishka and Vikrant Ragula, 16-year-old seniors at Skyline, took on the task of helping to save their school by writing an op-ed piece for the Salt Lake Tribune, encouraging potential voters, especially 18-year-old high school students, to register to vote, and attending public debates to voice their concerns. Apparently, Skyline High School is still preparing top-notch students to contribute to their communities and society at large. Well done!
Thank you to all the residents of Granite School District for voting to preserve, modernize, and improve Skyline High School. It's good to know the Skyline Eagle will continue to soar!
PLEASE KEEP YOUR HOME AND EMAIL ADDRESSES UP-TO-DATE ON YOUR PROFILES ON THIS WEBSITE, or send the info to Craig Benson, ojibenson@aol.com. The information will only be accessible to our classmates who are members of this website. Use of members' information for advertising or financial gain is strictly prohibited.
If you hear of a former classmate's passing, please let us know so we can post the obituary or any information you may have. Thanks to everyone for your help.
ANNOUNCEMENTS
| | |
| --- | --- |
| • | Check out the Historian's Yearbook on the menu to the left. This book was created by Jane Ridd Jones, who was Skyline's Historian in 1966-1967, and has a wealth of memorabilia from our high school days. |