Skyline High School
Class Of 1967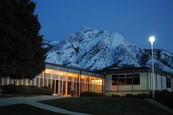 Thanks to all who came to our 45th reunion. The food was wonderful, the venue at Little America was beautiful and accomodating, and most of all, the people, our former classmates, were outstanding. We have lots of reasons to be proud of the Skyline Class of '67. If we can keep track of everyone who has been located for this reunion and find more of the "missing", we can make the 50th reunion even better!
Please keep coming back to check for news, and, hopefully, new profiles from those of you who have yet to register. It's such fun to read about your current lives, and especially to see photos. If you make a move before the 50th reunion, please try to remember to change your profile so we'll be able to keep track of you. Lastly, if you know of anyone in our class who has passed away and isn't listed in the "In Memory" section, please use the "Contact Us" menu option to let us know so we can keep the site up-to-date.
ANNOUNCEMENTS
•

The Class of 1967 donated another $500 to a worthy Skyline Graduate. The winner this year was Patricia Calzado, a very worthy young lady. Thanks to all of you who made this possible for this wonderful young woman.

•

Create/Update Your Profile, even if you missed the reunion.

We still want to hear from you. Click on "Classmate Profiles" on the menu on the left, and scroll down until you find your name. Click on your name and you'll be guided to create an account and make up a password. It doesn't cost you any money. Please tell us all about yourself, and, if possible, post a photo or two. It's great to see how people look now, and hear about what they've been doing since high school.

•

45th Reunion Photos

Click "45th Reunion Photos" on the menu at the left to view photos of the Skyline High School Class of '67 Reunion, held August 4th, 2012 at the Little America Hotel in downtown Salt Lake City. More photos will be added, so check back.

•

The free CD's of the Concert Choir record which were burned by Roger Hepworth went like hot cakes at the reunion. Thanks to him for being so generous with his time and money! If you would like to have one, contact Roger by sending him a message from his profile and he will send you one.

•

Click HERE to view advertisements for some of our classmates' businesses. The donations made by these business owners for these ads help to support our class reunion fund, so please thank them by supporting their businesses (or at least reading the ads).

•

Advertise Your Business

To help raise funds for future reunions, for a one-time donation of $50, we will advertise any classmate's business on this web site. The business person is encouraged to write his/her own copy, up to 100 words, or, if you will send the info to Crista Loucks Abbott at abbocris@gmail.com, she will be glad to write it up. A graphic can be included, and/or a link to the business's web site.